WELCOME
Welcome to our Circus School's web site. So far the Circus School has provided workshops for Nurseries, Primary and Secondary schools as well as special needs schools with great success. But we would say that, wouldn't we? If you would like to check for yourself we can provide you with contact details of schools we have worked for.
Size doesn't matter. We have worked in very small rural schools as well as in secure units for young offenders with only 5 pupils. Because we have two instructors we are also able to work with larger secondary schools.
Apart from the full day Circus School we have also been booked for special events such as school centenaries/anniversaries, end of term treats for the successful students, Christmas shows and as an alternative to a school outing.
WHO WE ARE
FUZZY, otherwise known as Graham, has been performing and giving workshops for over ten years. He officially clowned his way through Glasgow School of Art where he graduated with a BA (Hons) in Fine Art.
BRITTA, also a very talented performer and experienced workshop co-ordinator, juggled through universities in France and Germany where she graduated with a PhD in Modern Languages.
We are both members of Equity (Fuzzy's Membership No is M00142882 & Britta's is M00213226)
and can produce the Disclosure Scotland Certificate.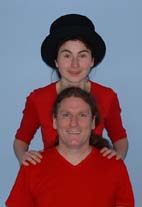 WHAT WE DO
We offer professional & tailor-made Circus Skills Workshops including:
· 30min Show
- We start the day with a show for the whole school. As well as being entertained the pupils participating in the workshops will also be inspired to learn the skills they have seen.
· Juggling Workshops
- Plate Spinning
- Juggling (balls, scarves, clubs, rings)
- Diabolo, Devil Stick, Staff
- Club Swinging, Poi
- Pedalgo, Unicycle & Minibike
- Stiltwalking
- Balloon Modelling, etc.


· Clowning Workshops
- Constructing a Routine
- Creating a Character
- Make-up & Costume
- Prop Manipulation
- Slapstick & Situation Comedy

WHY HAVE US
- Fun and Entertainment for everyone
- Circus skills improve hand-eye co-ordination and widen attention span
- Encourage inter-group activities and teamwork
- Enhance confidence and self-awareness
- Our workshops are also particularly good for dyslexics and people with other learning disabilities
- We are multi-skilled instructors with international performing and teaching experience
- We can offer the workshops in various languages (French, German, Spanish, Italian, Gaelic)
- We are both members of Equity and therefore have £10 million Public Liability Insurance each
- We provide a full risk assessment in advance so that you can decide which activities you approve of
- We bring a full range of equipment and can supply you if required
- We are a Scottish company, based centrally with the ability to travel throughout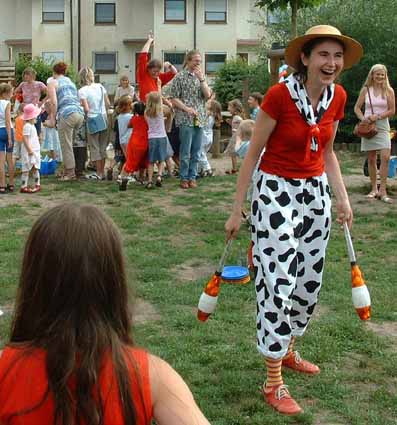 Fuzzy and Britta Performing in Germany
Please come back soon, or get in contact with us.
If you would like to email us then Click on the post bag
To phone the number is 01236 782 649
Click on Button